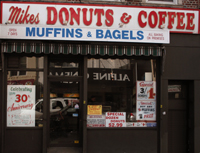 Mike's Donut Shop has been stuffing donuts since 1976. Mike is still there and so is his wife, Christina. Mike has trained his son Gus and son-in-law John to bring the fresh donut experience to the people of Bay Ridge, Brooklyn.

Mike's Donut Shop bakes everything on the premises twice a day. There are around 35 mouth watering types of donuts. Some include the jelly and cream, glazed, marble cruller, and the boston cream. Because the donuts are made fresh daily, they are light, soft, and a bit chewy with just the right amount of sugar to satisfy any sweet tooth!

Forget Dunkin Donuts and Krispy Cream, they cannot compete with our taste of a true, authentic donut. (Mom and Pop are there every day making sure of it!).

If you want to taste a real New York donut come to Mike's Donut Shop or call to order at 718 745-6980.